DIGITAL TRANSFORMATION SERVICES
DIGITAL TRANSFORMATION SERVICES
---
Digital Transformation Consulting
Assess Business Model
Asses Digital Capabilities
Infrastructure, Data, Applications, Front End
BM Innovation
Data Analyzes
Process Analyzes
Touchpoints
Data Processing 8x Analyzes
Value of Information
User Experience
Digital Transformation
Define IS Architecture
Omni—chonnel
Automotion
Integration of new solutions with existing one
Outcome
New Digital BM for Digitol Economy
Digital Products and Services
New Business Volue for Clients
Constont meosurment ond odjustments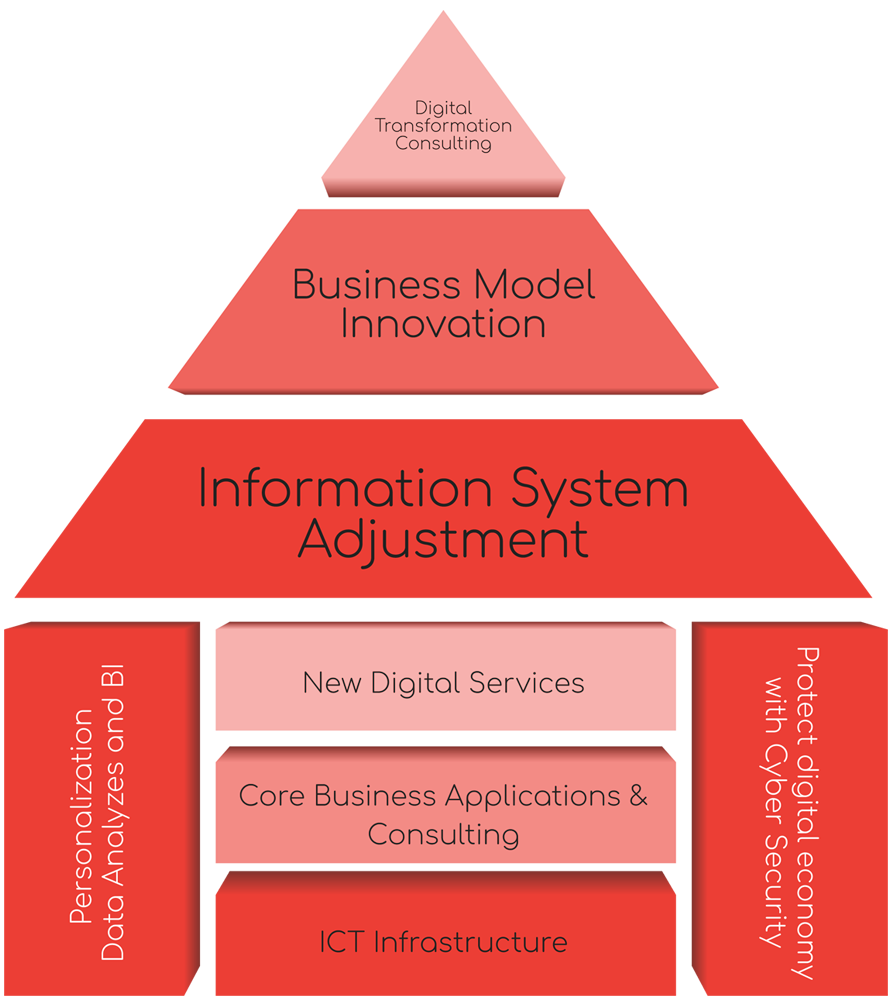 • Define strategy - Digital Transformation Consulting
First and main step in digital transformation journey is "consulting services". Scope of this phase is to assess current business model and point digital service capabilities through overall business assessment (data analyzes, process analyzes, touchpoints, how data process, value of information and their structure, user experience), plan and execute digital transformation business model workshop for CxO management level. Outcome of this phase shall be agreed proposal for digital transformation business model for execution plan.
• Planning execution – Digital business model innovation
In this phase has to be covered all new aspects and influences of agreed business model with new digital services. This require complete new assessment of new business model, has to be define new information system architecture, analyze all channels of communication (omni/opti-channel), automation of process, integration. Outcome of this phase shall be agreed plan of activities for digital transformation.
• Implementation and execution of digital transformation – Information system adjustment
Final phase is largest and very important from right scoping, sizing and aligning new information system with all crucial IT hardware pillars and old/new core digital services and applications with real time analytics and all cyber security aspects for entire IT stack. Education of people is very important because in all WW digital transformation projects main reason for failing of projects are people and their readiness to accept changes and new business model. So, let say that this final phase is "never ending story" and request continuous cycles of analyzing and improving business model through accepting new digital services and client centric approach.
FOUNDATION OF OUR DT PYRAMID:
---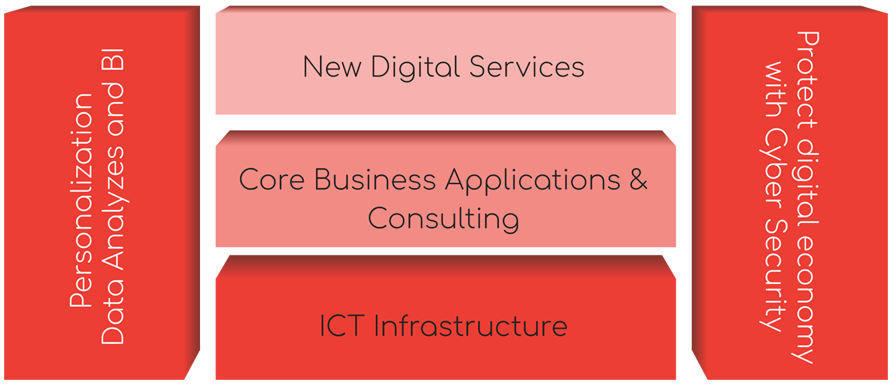 • Personalization Data Analysis and BI - Information Management
• Protect the digital economy with Cyber Security
• New Digital Services - OwnIP, Custome sw, CC&CRM, IM
• Core Business Application & Consulting - OwnIP, Custome sw, IM
• ICT Infrastructure - Network, Cybersecurity, DataCenter, Midlware, Public Cloud
Our Consulting Services:
• Digital Transformation Workshop
• Digital Readiness Assessment
• Infrastructure Assessment
• Data Assessment
• Process Assessment
• Applications Assessment
• Security Assessment
• Digital Initiatives Assessment
• Digital Consulting
• Digital Transformation Consulting
• Digital Transformation Execution
• …
Our digital products, solutions and services:
• Private Cloud consolidation
• Hybrid Cloud and integration solutions
• Robotization and Automation
• Chat Bots
• CRM / Operational CRM
• AI / IOT
• Call Center
• Debt Collection
• Personalization
• Authorization and Identification
• SOC, Security services
• NOC, Network services
• Proximity Marketing
• Digital Banking
• Ecosystem Platform
• Employee Engagement
• BES
• …