REA – Success Story About Banking Chatbot
REA – Success Story About Banking Chatbot
Petar Jovanovic - VP, Raiffeisen banka a.d. Beograd
Qualitative customer service is paramount for any financial institution, we were very aware of that. Our Contact Center is one of the key touchpoints for our bank where many of our clients form the impression of our business, and it is here that we noticed troubling changes. Customer behavior and patterns have changed, more and more interactions are occurring on social and messenger platforms, Contact Center capacity is an ongoing issue and our service level rates were not up to standard. We needed a new solution, a game changer, something that could truly modernize our company and provide a communication platform for the coming generations.
Then, REA, our long awaited colleague, arrived. She mastered all these challenges in no time, and was present round the clock on the two most popular messenger platforms, Facebook and Viber. She never complains about working hours and workloads, is full of enthusiasm and eager to learn. REA handled thousands of queries and requests, and nearly all of the conversations were finished with thank you and smileys sent by satisfied customers. Her colleagues love that she has joined our team, they are proud to have her here, as she lets them deal with creative and complex issues they did not have time for in the past.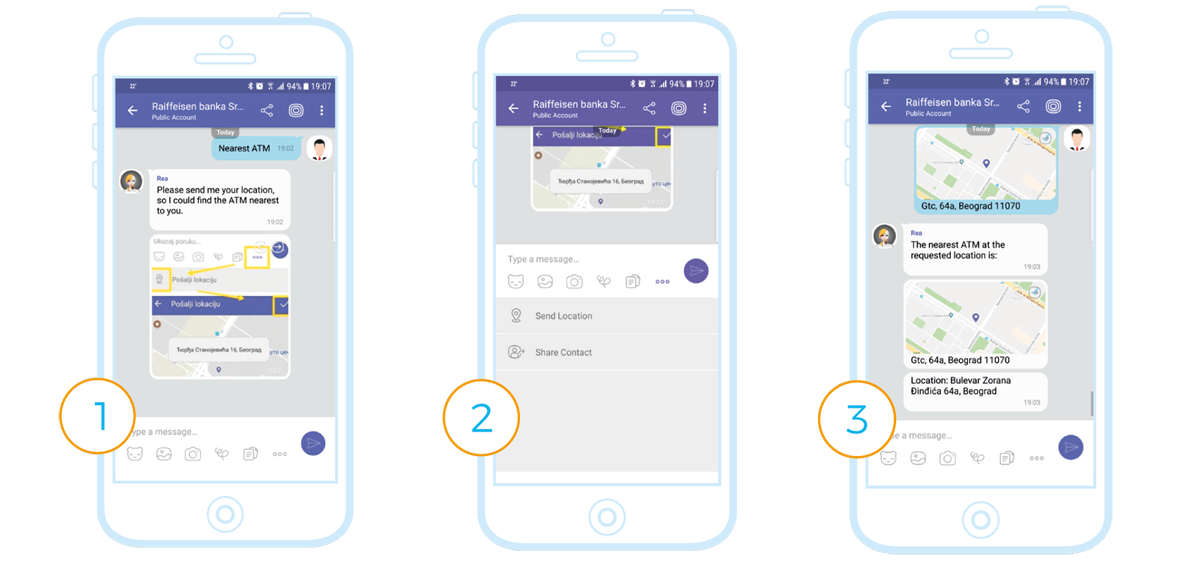 Raiffeisen bank is a top universal bank in the Serbian market, providing a comprehensive range of products and services to businesses, as well as to private individuals. The bank makes every effort possible to make itself available to its clients. However, the bank's employees receive a high volume of simple queries, which creates an overload and results in long response times..
Saga, member of New Frontier Group, created REA together with Raiffeisen bank, using the Weaver platform, a service powered by artificial intelligence that you interact with via a chat interface. REA fully understands natural language, English or Serbian. The conversation between REA and the bank's clients is interactive and is very similar to regular conversation between individuals. At the moment, REA is available on Viber and Facebook Messenger..
REA never sleeps – available 24/7 every day, she enables fast and simple communication with the bank through mobile phone or personal computer. Clients can ask any questions as regards the bank's products and services, make an appointment, find out the nearest location of a branch office or ATM.
REA provides the general public with a wide range of information. Through integration with the bank's systems, she can provide existing clients of the bank with personalized information, such as checking account balance or, soon to be available, information about the remaining balance of current loans. When providing personal information, the highest level of security is applied.
REA can recognize typos and also the sentiment of the conversation. Nevertheless, if she is unable to provide an answer or understand the question, she offers the client the possibility to continue the conversation with an available operator in the bank's Contact Centre. The Contact Centre operator is provided with the conversation history, so that an immediate answer is provided to the customer without changing the channel. There are more than one hundred story lines in REA's memory and she learns new story lines weekly.
After six months in operation, REA has performed 350,000 conversations. The most frequently asked questions in that period were about activating/blocking payment cards, clients' account balance and type of loans available in the bank. Apart from questions regarding banking, users also ask REA the typical questions from a human conversation: about her mood or weather conditions. REA answers some of these questions skillfully and with measured humor.
Soon, REA will be able to calculate loan installments, inform clients about their credit or payment card balance. She will enable customers to make a payment or to withdraw cash using Mobile cash.

"Rea is not just another communication channel, she's a marketing tool of the future when people need information immediately and to the point"
Katarina Gaborovic
Head of Marketing and PR, Raiffeisen banka a.d. Beograd